In 2015, the only Orange County employee to make over $400,000 in pay and benefits was Sheriff Sandra Hutchens, who received total compensation of $400,214.
But 2016 payroll data recently updated by Transparent California for the county's 19,080 employees reveals that 11 employees made over $400,000 — with two county psychiatrists each topping $500,000 in total compensation.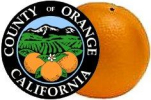 A total of 8,579 county employees made $100,000 or more in total compensation.
Total compensation for all the county's employees experienced a mild increase over 2015, rising only 3% to just under $2 billion last year.
To view the complete datasets in a searchable and downloadable format, visit the Transparent California website.